YAMAHA RIVAGE PM10 CSD-R7
YAMAHA RIVAGE PM10 CS-R10 (YOM:????) (SN:TBD)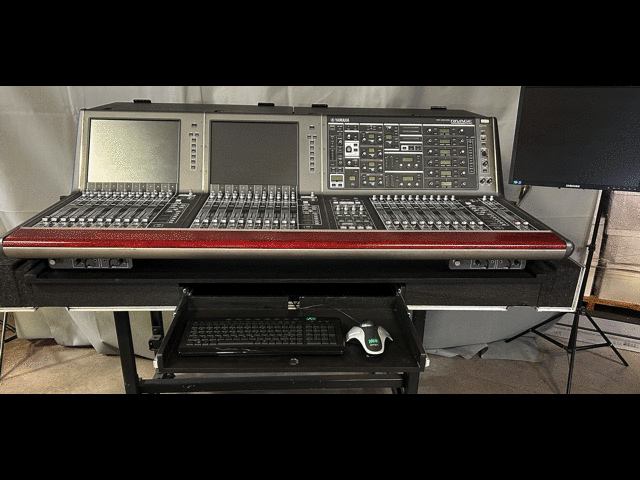 ** WITHOUT THE RPIO RACKS FOR THOSE WHO WANT TO USE THEM WITH THEIR DANTE NETWORKS
YAMAHA CS-R10 "PM10" CONTROL SURFACE
MT CASES ROADCASE
OVERVIEW SCREEN
YAMAHA DSP-R10 "PM10" ENGINE
YAMAHA HY144-D DANTE CARD

***DSP AND STAGE RACK SHIPPED IN BOXES
***BUYER TO PROVIDE CAT AND FIBER CABLING
USED EQUIPMENT:
OPTIONAL AT ADDITIONAL COST
YAMAHA RPIO622 "PM10" STAGE RACK (64X32) YAMAHA HY256-TL NETWORK CARD
(4) YAMAHA RY16-ML-SILK INPUT CARDS

(2) YAMAHA RY16-DA OUTPUT CARDS
(2) TENSALITE 12U SHOCK MOUNT RACK - HINGED REAR DOOR, FANS, LIGHTS, AC APC UPS

***STAGE RACK SHIPPED IN A BOX

***BUYER TO PROVIDE FIBER CABLING

SELLER'S COMMENTS: CARDS SHOWN IN THE ENGINE PICS WOULD NOT BE INCLUDED
** I WILL ALSO SELL THIS WITHOUT THE RPIO RACK FOR THOSE WHO WANT TO USE IT WITH THEIR EXISTING RIO'S. THIS CONSOLE WAS PUT INTO SERVICE JUST THIS YEAR SO IT HAS VERY LIGHT USAGE.
PRICING IS ONLY GIVEN TO QUALIFIED BUYERS - PLEASE CALL TO DISCUSS.
YAMAHA'S INFORMATIONAL PAGE ON RIVAGE PM7
WWW.SOUNDBROKER.COM LINKING BUYERS AND SELLERS TOGETHER SINCE 1997 FOR NEW AND USED PROFESSIONAL AUDIO, LIGHTING, STAGING, PROJECTORS, AND VIDEO EQUIPMENT.