(Celebrating our 25th anniversary linking buyers and sellers)
ID # 67419 CURRENT CATEGORY - PA SYSTEMS
12 EA. M2D COMPACT LINE ARRAY SYSTEM
[PRICE SHOWN FOR THE ENTIRE CONTENT OF THIS LISTING]
Listing last update on July 12, 2013 - Viewed 2 times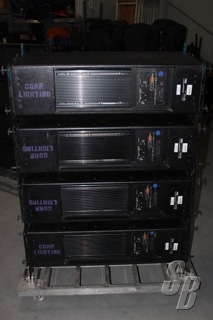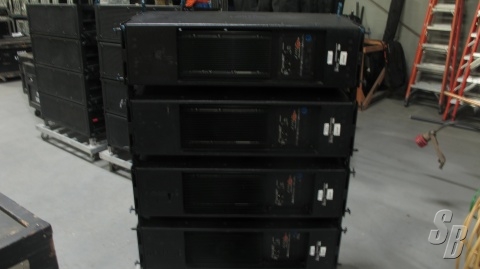 /
Click on thumbnail to enlarge
12 EA. M2D COMPACT LINE ARRAY SYSTEM
[PRICE SHOWN FOR THE ENTIRE CONTENT OF THIS LISTING]



12 EA. MEYER M2D LOUDSPEAKERS SYSTEM COMES ON 6 EA. CUSTOM MADE DOLLIES (4&5 PER DOLLY) AND 6 EA. MEYER SOUND MG-2D MULTIPURPOSE GRID

HTTP://WWW.MEYERSOUND.COM/PDF/PRODUCTS/M_SERIES/M2D_OI-A.PDF

THE CABINETS ARE IN EXCELLENT CONDITION. THIS SYSTEM WAS ONLY USED ON CORPORATE AV TYPE EVENTS NOT MUCH WEAR AND TEAR. JUST A FEW MINOR SCRATCHES.

PLEASE NOTE: THE DOLLY UNDER THE FLY GRIDS IS NOT INCLUDED IN THE SALE.

THE M2D LOUDSPEAKER GIVES YOU THE FLEXIBILITY TO TAILOR VERTICAL COVERAGE BY VARYING THE NUMBER AND SPLAY OF CABINETS IN THE ARRAY WHILE MAINTAINING A CONSTANT 90 DEGREES OF HORIZONTAL COVERAGE. FOR HIGH FREQUENCIES, THE M2D LOUDSPEAKER UTILIZES MEYER SOUNDæ‹… PATENTED REMTM RIBBON EMULATION MANIFOLD TO COUPLE A SINGLE COMPRESSION DRIVER WITH A 1.5-INCH EXIT (4-INCH DIAPHRAGM) TO A HORN WITH 90-DEGREE CONSTANT-DIRECTIVITY HORIZONTAL COVERAGE. (THE VERTICAL COVERAGE OF THE ARRAY DEPENDS UPON THE ARRAY LENGTH AND CURVATURE). THE M2D LOUDSPEAKERæ‹… MID-LOW SECTION COMPRISES TWO HIGH-POWER 10-INCH DRIVERS WITH LIGHTWEIGHT NEODYMIUM MAGNET ASSEMBLIES HOUSED IN A COMPACT, VENTED TRAPEZOIDAL ENCLOSURE.
| | |
| --- | --- |
| ID#: | 67419 |
| Listing Type: | Standard |
| Model: | M2D |
| Manufacturer: | MEYER SOUND |
| Condition: | SUPERB (8-9) |
| Shipping Info: | 0.00 lbs., |
| Seller's Location: | LA, USA |
| Updated: | July 12, 2013 |
| M.S.R.P.: | $0.00 |
| Asking Price: | SOLD |
To purchase or list using the services of SoundBroker.com, you must be a member of SoundBroker.com and agree to our terms and conditions. If you are a VIP-Loyalty Club Member and feel a listing is priced too high, please contact us to make a fair counteroffer (unfortunately, due to the nature of the economy, SoundBroker.com does not accept low offers from our Gold Members). Click here for details on becoming a VIP-Loyalty Club Member.

All listings on SoundBroker.com are subject to change &/or cancellation without notice. All items listed are pre-owned and priced per unit unless noted in the description. SoundBroker.com reserves the right to accept or decline any listing or purchase.
---