ASTRA MOBILE STAGE ( 20 X 16 )
01/19/2023 - WE JUST RECEIVED AN EXCLUSIVE ON AN ASTRA THAT IS AVAILABLE FOR IMMEDIATE SHIPPING.
ASTRA MOBILE STAGE - YOU SAW IT HERE ON SOUNDBROKER.COM
ASTRA MOBILE STAGE - FOR THOSE WHO JUST NEED AN AFFORDABLE SMALL MOBILE STAGE.
DO YOU NEED A QUICK TO SET UP, EXCELLENT SMALL SIZE, EASY TO MOVE ASTRA MOBILE STAGE?
ABOUT THE ASTRA MOBILE STAGE:
MODEL: LP2016
SIZE: 20X16
INCLUDES:
ASTRA LP-2016 MOBILE STAGE
STAIRS FOR LP-2016 STAGE
70% BLOWTHROUGH BACKDROP FOR LP2016
LIGHT HANGER BARS
SET UP TIME: 45 MINUTES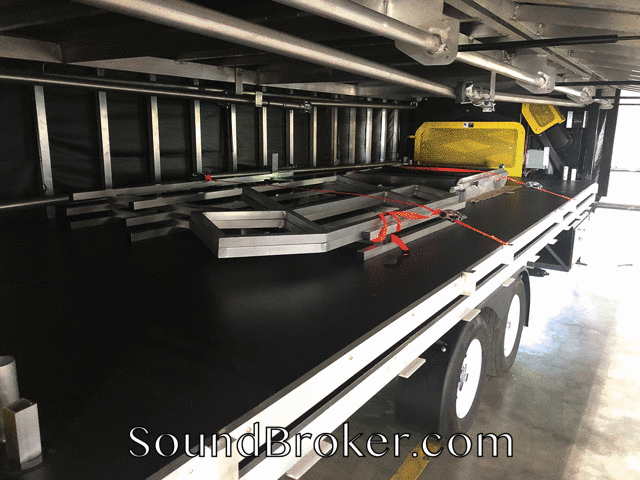 HAULING MODE: BREAK-AWAY BUMPER HITCH
POWER SOURCE: BATTERY-POWERED WINCH
WHAT ARE THE LOAD RATINGS AND CAN I HANG LIGHTS ON THIS STAGE?
THE SHORT ANSWER IS YOU ARE ABLE TO PUT SOME LIGHTWEIGHT LED LIGHTS ON THIS STAGE. WE HAVE A SEPARATE FLYBAR KIT AVAILABLE FOR FLYING SPEAKERS.
----------
DO THE GUARDS HAVE TO BE YELLOW?
THEY COME YELLOW BECAUSE THEY ARE SAFETY GUARDS AND MOST USERS WILL NOT BE EVENT PROFESSIONALS. THAT SAID, WE CAN PAINT THEM GREY ON REQUEST. IT'S FREE IF YOU ORDER A UNIT BEFORE IT'S BUILT AND WILL COST A SMALL FEE IF THE UNIT IS ALREADY MADE.
----------
WHAT TRUCK DO I NEED TO PULL AN ASTRA?
THE TONGUE WEIGHT OVER 800LBS AND THE NAKED WEIGHT OF THE STAGE IS 7,080LBS. IT'S THE SIZE OF A SMALL/MED RV CAMPER. THIS STAGE CAN BE MOVED AROUND BY A HALF-TON CLASS PICKUP (LIKE A FORD F150, RAM 1500, CHEVROLET SILVERADO 1500, AND GMC SIERRA 1500). THAT SAID, IT WILL NEED AT MINIMUM A CLASS III WEIGHT-CARRYING HITCH, AND THE TRAILER WILL NOT PULL OPTIMALLY. AT THIS TIME, WE RECOMMENCED A 3/4-TON (OR LARGER) TRUCK FOR TRANSPORTING THE ASTRA AT HIGHER SPEEDS AND LONGER DISTANCES. SINCE THE ASTRA USES A FOLDING HITCH, A WEIGHT DISTRIBUTION HITCH CANNOT BE USED. HOWEVER, WE ARE WORKING ON DESIGNING AN ACCESSORY THAT WILL ALLOW A WEIGHT DISTRIBUTION HITCHES TO BE USED BY SMALLER VEHICLES.
YOU CAN ORDER THROUGH SOUNDBROKER.COM
IF A MEMBER HERE, PLEASE LOG INTO YOUR ACCOUNT AND INQUIRE ABOUT LISTING
OR CALL SOUNDBROKER.COM DIRECT AT 702-736-3003 WITH ANY QUESTIONS YOU MAY HAVE.
ASTRA STAGE - AS SEEN ON SOUNDBROKER.COM
WWW.SOUNDBROKER.COM LINKING BUYERS AND SELLERS TOGETHER SINCE 1997 FOR NEW AND USED PROFESSIONAL AUDIO, LIGHTING, STAGING, PROJECTORS, AND VIDEO EQUIPMENT.